This tuner is developed for tuning of accordions and similar 'free-reed' instruments such as the diatonic harmonica, the concertina, the bandoneón, the melodica and the reed organ.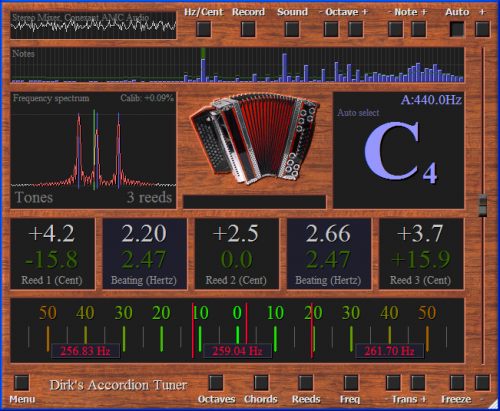 accordion tuning. accordion tuner
Dirk's Tuner is developed for professional experienced tuners, but because it gives good insights in the tuning process, it is very suitable for beginning tuners as well.
After updating Windows 10 to version 1803 you can get this error:
Error opening wave device.

This can easily be fixed by turning on the following Windows setting: Settings => Privacy => Microphone => Allow Apps to access your microphone.
Compatibility
---
Microsoft

Desktop
Laptop
Netbook
Intel Tablet
Phone
Pocket PC
Windows 10
Windows 8.1
Windows 8
Windows 7
Windows Vista
Windows XP
Windows ME
Windows 2000
Windows 98
Windows Phone
Windows RT
---
Apple

iMac
Mac Pro
Mac mini
MacBook
iPad
iPhone
MacOS 10.13
MacOS 10.12
OS X 10.11
OS X 10.10
OS X 10.9
OS X 10.8
OS X 10.7
Mac OS X 10.6
Mac OS X 10.5
Mac OS X 10.4
iOS iPhone
iOS iPad
---
The tuner is available in the following languages: