Tuning a piano the classical way is a very complicated process. One has to possess the skills, to handle the tuning hammer in the correct manner and to leave the tuning pin in a stable position. It is however even more difficult to determine the correct pitch of the strings.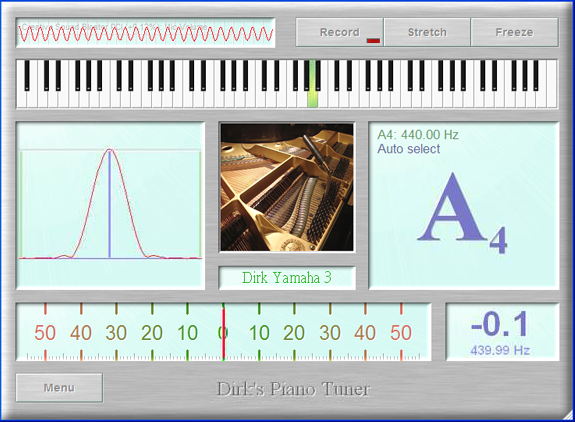 piano tuning, piano tuner
Many instruments can be tuned using a simple tuning device. Each tone is then tuned exactly to a predefined frequency. This method can't be used tuning a piano. The result would make the piano sound harsh and out of tune. The reason for this lies in the way stringed instruments produce their sound. Dirk's Piano Tuner analyzes your instrument and uses the results to calculate the optimal tuning for your piano in particular. Using this calculated setting, you can then tune your piano, in no time, to a professional level, without having to go through the classical, time consuming, process of 'checking the intervals'.
Compatibility
---
Microsoft

Desktop
Laptop
Netbook
Tablet
Phone
Pocket PC
Windows 11
Windows 10
Windows 8.1
Windows 8
Windows 7
Windows Vista
Windows XP
Windows ME
Windows 2000
Windows 98
Windows Phone
Windows RT
---
Apple

iMac
Mac Pro
Mac mini
MacBook
Intel cpu
M1 & M2 cpu
iPad
iPhone
Ventura
Monterey
Big Sur
Catalina
Mojave
High Sierra
Sierra
El Capitan
Yosemite
Mavericks
Mountain Lion
Lion
Snow Leopard
Leopard
Tiger
iOS iPhone
iOS iPad
---
The tuner is available in the following languages: