The HOHNER Harmonica Tuner is developed by Dirk's Projects in collaboration with HOHNER Musikinstrumente. This tuner enables Harmonica owners to tune their own instrument.
The tuning process is easy to learn and is clearly explained in the tutorial video.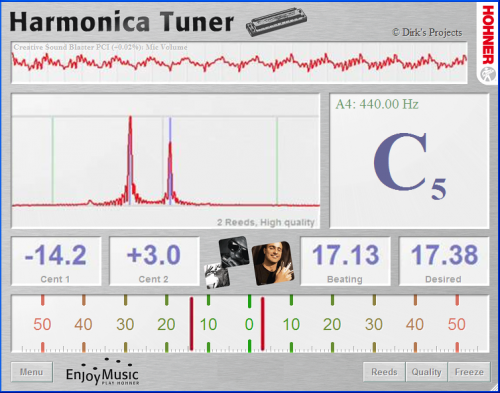 harmonica tuning, harmonica tuner
The tuner software can tune single reeds, but also double reeds tuned in tremolo. This unique feature enables one to set the right beats easily and accurately. Beats are very hard to tune when tuning both reeds separate from each other. With this tuner both reeds can be measured simultaneously together with the sounding beats, making it very easy to tune the beats.
Compatibility
---
Microsoft

Desktop
Laptop
Netbook
Tablet
Phone
Pocket PC
Windows 11
Windows 10
Windows 8.1
Windows 8
Windows 7
Windows Vista
Windows XP
Windows ME
Windows 2000
Windows 98
Windows Phone
Windows RT
---
The tuner is available in the following languages: