2007
Dirk's Accordion Tuner - Accordions Worldwide
Mirco Patarini, Scandalli Accordions:
Save time tuning accordions!
Dirk Wolters is a software developer from Sneek, a little town in the north of the Netherlands. He has developed a unique software application that can speed up the process of tuning accordions. Dirk's Accordion Tuner, as the software is called, simplifies the complex tuning process and makes it easier to understand.

The Accordion Tuner is extremely accurate. The measuring error is less than 0.05 Hz (sound waves longer than 20 seconds). This accuracy makes it possible not only to measure single reeds, but also to measure multiple reeds at the same time and the beating frequencies between them. A special algorithm eliminates the need for calibration; the tuner is always accurate!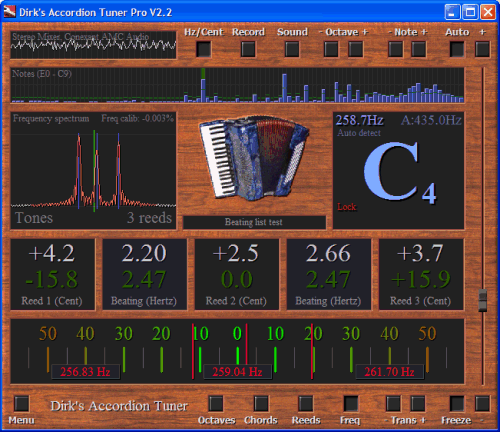 The tuner software uses a microphone to measure the sound. Because the accuracy of the tuner is independent of the microphone, any microphone can be used, although to be able to measure the very low basses, a wide spectrum microphone gives better results. Dirk's Accordion Tuner ranges from the E0 (20.6 Hz) up to the C9 (8.4 kHz). The tuner can measure up to three reeds at the same time and also measure the beating frequencies that occur when multiple reeds with almost the same pitch sound together. This effect is called 'tremolo'. The characteristic sound of a specific accordion largely depends on the amount of beating for each note; the 'tuning' of the accordion. With Dirk's Accordion Tuner one can create and save lists with these beating frequencies, making it possible to save the tuning of an accordion in a computer file. The tuner software can use this file during the tuning process so every note will get exactly the right amount of 'tremolo'. Lookup tables are not needed for this anymore!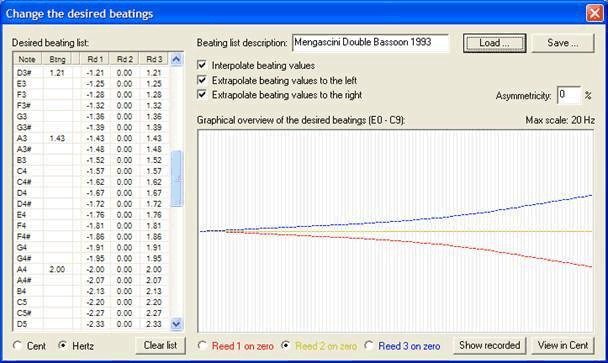 If the tuning of an accordion is not known, the Accordion Tuner can record all its notes and create the tuning file that way. The recorded reeds and their errors, in respect to the desired beatings, can be reported in a convenient table. The best thing about this is that the accordion can be recorded without opening it. This means that pitch differences caused by the accordion's case or by interacting reeds are taken into account; the real sound is measured.

The Accordion Tuner is even able to measure chords with three reeds and up to three reeds of the same note in different octaves.