Dirk's Chromatic Instrument Tuner v1.3
Accurate and multi functional chromatic instrument tuner. For tuning of pan flute, organ, violin, cello etc.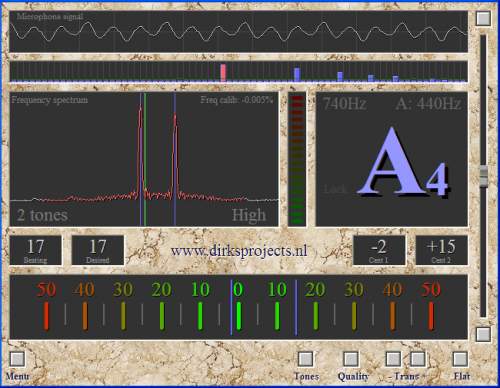 instrument tuning, instrument tuner
After updating Windows 10 to version 1803 you can get this error:
Error opening wave device.

This can easily be fixed by turning on the following Windows setting: Settings => Privacy => Microphone => Allow Apps to access your microphone.
Compatibility
---
Microsoft

Desktop
Laptop
Netbook
Intel Tablet
Phone
Pocket PC
Windows 10
Windows 8.1
Windows 8
Windows 7
Windows Vista
Windows XP
Windows ME
Windows 2000
Windows 98
Windows Phone
Windows RT
---
The tuner is available in the following languages:
Quotes from users.

"The tuning went so well that I'm going to check out the whole instrument now."

"I've tuned my 36-t Verbeeck the last hour and a half. I'm very impressed with your program. My organ plays a whole lot better."

Manual
---
---
The manual is available in the following languages:
An overview of this tuner's features
Easy and accurate tuning of musical instruments.
Tune with your pc or laptop with an external or internal microphone.
Always accurate. Calibration works fully automatic.
Large and easy readable screen.
Measure two tones (at the same time) and their beating.
Check beating tones without opening your instrument.
Large range: B1 up to C8.
The frequency of the A is configurable between 430 and 450 Hz.
Transpose and 'quadra flat tuning'.
Automatic detection and display of note and octave.
Automatic detection and display of the amount of beating.
High accuracy of about 0.5 Cent.