Dirk's Piano Tuner

Att stämma ett piano på det klassiska sättet är en komplicerad procedur. Givetvis behöver du ha förmågan att rätt kunna hantera en stämnyckel så att stämpinnerna förblir i sin rätta position. Ännu tydligare är svårigheten att bestämma strängarnas rätta tonhöjd. Många instrument kan stämmas med enkla stäminstrument. Varje ton ställs då in på en viss exakt frekvens. Frekvensen bestäms med den önskade tonskalan. Hos ett piano är ett sådant förfarande inte möjligt, eftersom resultatet skulle uppfattas som oharmonisk och falsk. Detta beror på sättet som strängarna hos stränginstrument producerar sin klang. Dirk´s Piano-Tuner analyserar ditt instrument och beräknar, på basis av resultat, den optimala sträckningen speciell för ditt piano. Därigenom kan du utan kunskap av komplicerad pianostämningsteori och utan att behöva kontrollera alla intervaller, snabbt ock enkelt uppnå den optimala professionella stämning för ditt piano.


http://dirkspianotuningandrepair.blogspot.nl


Hur man stämmer ett piano Klicka på följande länk för en kort beskrivning: Beskrivning av pianostämning I praktiken Kursvecka "Pianostämning för nybörjare"

Anmäl dig till vår kursvecka "Pianostämning för nybörjare". Kursen hålls i Dordogne i Frankrike. Under kursen kommer du att lära dig praktiska steg i arbetet med att stämma ett piano (med Dirk´s Piano-Tuner). Klicka på följande länk för mer information:

Kursvecka "pianostämning för nybörjare" Sträckning

En sträng kan vibrera på många olika sätt. Till exempel endast inom ett visst område dvs. i mitten och stillastående i ändarna. Eller, den vibrerar på två områden; i mitten vid ¼ och ¾ av längden medan ändarna står stilla. En sträng kan vibrera även i tre, fyra, fem eller fler delområden. I Praktiken dock, vibrerar strängarna i ett piano på alla nämnda sätt samtidig. Varje svävning levererar sin egen frekvens dvs. en sträng som slagits an återger många frekvenser samtidig. Dessa frekvenser kallas för "harmoniska övertoner". Skulle dessa övertoner motsvara exakt det 2,3,4 och 5-faldiga av grundtonens frekvens, då skulle en enkel stämapparat kunna användas. Hos ett piano är dock så, att dessa övertoner motsvarar något mer än det 2,3,4, och 5-faldiga. De exakta värden bestämmer grundtonernas frekvenser av strängarna varpå ett piano klingar rent. I praktiken måste basen stämmas lägre än motsvarande tonskalans toner. De högre tonerna stäms något högre. Graden av denna avvikelse kallas för sträckning och är beroende av flera faktorer. Pianons dimension är avgörande (t.ex. strängarnas längd) men även diametern, materialet och strängarnas vikt. Detta betyder, att varje piano, för att kunna uppnå den optimala klangen, behöver stämmas olika.

Att bestämma den rätta sträckning

Det finns stäminstrument som tar hänsyn till den nödvändiga sträckningen. Hos dessa stäminstrument kan i förväg en sträckning väljas. För ett stort piano kommer då en mindre, och för ett litet piano en större sträckning att väljas. Med en sådan stämapparat kan ett piano endast en begränsad stämning uppnås eftersom det inte tagits hänsyn till pianons konstruktion. Detta är dock absolut nödvändig om en optimal sträckning eftersträvas. Ett piano, stämd på det viset, kommer aldrig att kunna uppnå sin optimala klang. Det måste med hjälp av gehör, ytterligare kontrolleras och efterstämmas.

En pianostämmare behöver använda sig av många jämförelseintervaller (till det används två tangenter samtidig)för att kunna stämma ett piano motsvarande det nämnda. Detta förutsätter mångårig praktik med mycket erfarenhet. Problemet är, att intervallerna inte kan stämmas helt ren och – inte varje intervall görs lika "ostämd". Om t.ex. endast ett intervall inte blivit riktig stämd, så har det omgående inverkan på de intilliggande tonerna. Dessa är dock en del av de andra intervaller som då inte längre passar ihop. Detta är en gåta som kräver en lösning.

Dirks Piano-Tuner löser denna gåtan åt dig. Med Dirk´s Piano-Tuner kommer alla toner, genom tangentanslagen, att spelas in. Till det trycks endast en tangent, som endast får slå på en enskild sträng (per kör) De andra strängarna behöver dämpas/mutas. En stämning framställs, baserad på dessa enskilda strängar. De dämpade strängarna kommer senare, med de innan stämda strängarna, att stämmas i samma kör. Stämapparaten gör inte enbart en inspelning av grundtonerna utan även av de icke harmoniska och de harmoniska övertonerna. Efter inspelningen används dessa informationer av Dirk´s stäminstrument för beräkning av grundtonernas frekvens från alla strängarna. Till det beräknas renheten av alla intervallerna för att dessa skall stämma med varandra. Nu kan strängarna stämmas en efter en. Programmet känner automatiskt igen den sträng som slagits an och visar, hur mycket just denna sträng avviker från tonens optimala höjd. Efter att alla pianosträngar har blivit stämda, är pianot nu stämd med den bäst möjliga sträckningen och kommer att visa upp en optimal och ren klang som motsvarar pianons. Varje sträng behöver stämmas endast en gång.Det är inte nödvändig att, med hjälp av gehör, kontrollera alla intervaller ytterligare.

En överblick kring möjligheterna med detta stäminstrument

| | |
| --- | --- |
| • | Användbar för flyglar och pianon av alla märken och storlekar. |
| • | Att uppnå en professionell stämning, enkelt, snabb och noggrann, skräddarsydd för ditt piano. |
| • | Beräknar den optimala sträckningen. Varje sträng erhåller därigenom den optimala tonhöjden. |
| • | Den framtagna sträckningen kan sparas och behöver inte beräknas än en gång vid senare tillfället. |
| • | Mycket användarvänlig. Ingen Kunskap av den komplexa teorin kring pianostämning är nödvändig. |
| • | Det är inte längre nödvändig att, med gehör, att räkna svävingar och kontrollera intervaller. |
| • | Snabb reaktion av visning. Det är enkelt att hitta rätt tonhöjd – detta betyder snabbare arbetsförlopp. |
| • | Automatiskt upptäckt av aktiverad sträng- vad som förhindrar stämning av fel sträng. |
| • | Inte enbart tonen utan även tillhörande oktav upptäcks. |
| • | Nålens visare följer alltid tonen även då den rör sig till nästa högre eller lägre tonen. |
| • | Nya strängar kan tack vare hög noggrannhet, säkert och snabb uppnå den rätta spänning. |





Microsoft

Apple

Desktop, Laptop, Netbook, Intel Tablet

iMac, Mac Pro, Mac mini, MacBook

$398
US Dollar




$398
US Dollar




Hämta en testversion





Hämta en testversion







Manual

Windows 10
Windows 8.1
Windows 8
Windows 7
Windows Vista
Windows XP
Windows ME
Windows 2000
Windows 98

Windows Phone
Windows RT

MacOS 10.12




OS X 10.11




OS X 10.10




OS X 10.9




OS X 10.8




OS X 10.7




Mac OS X 10.6




Mac OS X 10.5




Mac OS X 10.4




Mac OS X 10.3



iOS iPhone
iOS iPad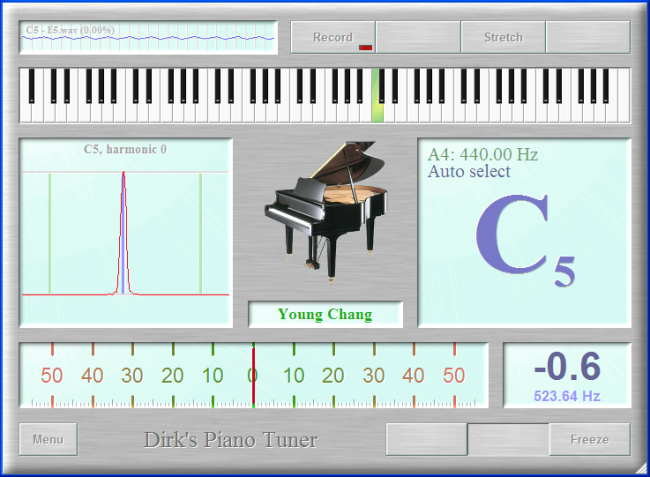 piano tuning, piano tuner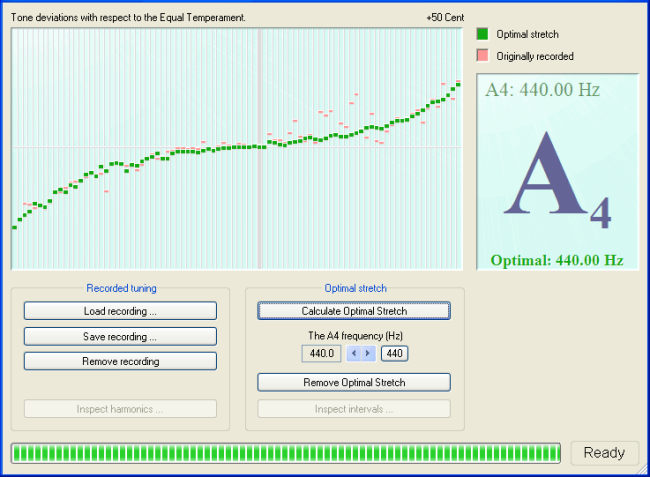 piano sträckning



| | |
| --- | --- |
| | |
| Namn: | S.Lamert |
| Plats: | Warburg |
| Datum: | 2017-04-19 |
| Språk: | Deutsch |
| Kommentar: | Das beste Klavierstimmen Programm was ich kenne!!! Service - blitz schnell. Vielen Dank Herr Dirk, bin sehr zufrieden !!! |
Namn:
guido janssens
Plats:
Belgium
Datum:
2017-03-31
Språk:
English
Kommentar:
This guestbook is already full of positive comments, so I can be short: Dirk's Piano Tuner is a great program. With a bit of patience you'll tune your piano perfectly, and will make the sound of it sparkle, even if you never tuned a piano before. (If it's the first time you tune a piano: foresee at least half a day; the next times it will go considerably faster).
Dirk's service is great. My computer broke and I lost my installation files. After sending a mail I received the next morning already fresh installation files. Thanks Dirk!
Namn:
Boiten Yvo
Plats:
Hasselt België
Språk:
Nederlands
Kommentar:
Dank aan Dirk voor vlugge tussenkomst, Dirk's Piano Tuner v4.0 deed het niet meer na vervanging van de harde schijf door SSD schijf.
Dirk's Piano Tuner v4.0 super geweldige toepassing, Pianoklank altijd top, service achteraf steeds perfect en even vriendelijk.
Tevreden klant sinds 2013
| | |
| --- | --- |
| | |
| Namn: | Luciano |
| Plats: | Benos Aires, Argentina |
| Språk: | Español |
| Kommentar: | Casi tres años después de adquirir este excelente afinador. La buena predisposición y rapidez en las respuestas ante cualquier eventualidad ajenas al afinador lo hacen un producto altamente recomendable. |
Namn:
Gerard Scholzen
Plats:
Bois-Colombes
Språk:
Français
Kommentar:
Enthousiasmant, cet outil est vraiment bien conçu et pratique à utiliser. Si l'on sait caler convenablement les chevilles, le résultat est excellent et l'accord est étonnamment stable. J'accorde régulierement depuis 3 ans avec ce logiciel un 1 / 4 de queue A. Forster de 1939 et un Yamaha droit 131 cm. Les résultats sont parfaits. J'ai un peu plus de mal avec un petit piano d'étude (qui tient mal l'accord) mais c'est indépendant du produit.
Bravo à Dirk et merci à lui pour la qualité de son service; (j'ai du telecharger 2 fois le logiciel suite à des casses d'ordinateur)
Namn:
J Prien
Plats:
Bielefeld, Germany
Språk:
Deutsch
Kommentar:
Super Tuner, super Kontakt und Support!
Nachdem die Installation auf dem neuen Pc nicht funktionierte, bekam ich einen neuen download-Link innerhalb weniger Stunden.
Einfach perfekt! Mit dem Tuner bin ich natürlich auch zufrieden; -)
Jerry
Namn:
Robert Hanisch
Plats:
Maryland, USA
Språk:
English
Kommentar:
What great user support! Emailed about Piano Tuner not working after MacOS upgrade to 10.12. Had a response in 30 minutes (1 am NL time), new download with the problem fixed.

And, of course, the software works great. I have a professional tuner come in once or twice a year, because he has a super ear and makes my Boston grand just sing. But in between times I can touch up and keep things sounding pretty good. Thanks, Dirk, for a great product!
Namn:
Marcel Baggen
Språk:
Nederlands
Kommentar:
Ik heb de piano tuner in 2010 aangeschaft om mijn eigen piano bij te kunnen stellen.
Vanwege het geringe gebruik vind ik de goede gebruiksvriendelijkheid van het programma een belangrijke eigenschap.

Nu mijn oude computer defect is geraakt heb ik na een kort mailtje binnen een dag een nieuwe versie (zonder bijbetaling) gekregen voor de vervangende PC.
Top service van Dirk!
Namn:
Joachim P
Språk:
Deutsch
Kommentar:
Den Piano Tuner benutze ich nun schon seit einigen Jahren.
Ursprünglich habe ich ihn mir geholt, weil die Klavierstimmer mein Klavier nie so stimmen konnten, wie ich es wollte.
Wie auch - ein Klavierstimmer hat nicht die Zeit um ein Klavier perfekt zu stimmen, oder es wird sehr teuer.
Mit Hilfe des Piano Tuners kann man es selbst besser machen als die vielen durchschnittlichen Klavierstimmer. Sicher gibt es auch sehr gute, aber ich hatte leider keinen gefunden, der mir zugesagt hat.
Eine Empfehlung für die, die sich die Software auch kaufen möchten. Wer noch nie ein Klavier gestimmt hat, sollte das handwerkliche Grundwissen im Stimmkurs erwerben. Nur die Software hilft Anfängern nur begrenzt. Oder man muss sehr viel probieren;)
Meinen besonderen Dank an Dirk, der auch nach Jahren immer kurzfristig mit Rat und Tat weiterhilft.

Namn:
Tony Fairfield
Plats:
New Zealand
Språk:
English
Kommentar:
I bought Dirk's piano tuner because of what I believe are diminishing standards of conventional tuning near where I live. I am not a trained tuner but am a perfectionist in piano matters. I can thoroughly recommend Dirk's tuner to anyone wanting to tune their own piano to a very high professional standard. The personalised stretch for my Model A Steinway grand sounds excellent, the tuner gives clear and accurate readings to within fractions of a cent and is easy to use. I had numerous Email discussions with Dirk before the purchase and found him always very prompt, professional, and informed, in his responses.

Thank you Dirk for a great product.
Namn:
Milko Lazar
Plats:
Slovenia
Språk:
English
Kommentar:
I've got Dirk's Piano Tuner few months ago. I am tuning my 218cm piano regularly with it now and I must say my piano was newer tuned better. Much better than tunings of my professional tuner.
Dirk's stretched tuning simply sounds amazing. You will have to adapt your ears to slightly wide thirds, but the fifths are more close to pure. The tuner itself is very simple to use and very precise.
For nearly thirty years I was frustrated with most of the time out of tune piano, which is I think, the serious problem of all the sensitive piano players. Now it takes me four hours every month or so, and I am more happy than ever.
One month ago, I've tuned my friend's almost new Steinway D, and he was totally impressed.
I recommend the Dirk's Tuner to every pianist, who has some ability to handle the tuning hammer or has will to learn how to use it (I recommend a good quality carbon hammer). It will make your life much much better.
Go on Dirk! Thank you!
Namn:
Mikhail
Plats:
Moscow
Språk:
Русский
Kommentar:
Здравствуйте! Когда же появятся курсы на русском языке? Очень ждём!
С уважением,
Михаил
Namn:
Gerard
Plats:
Volendam
Språk:
Nederlands
Kommentar:
Dirk, dank je wel voor het schrijven van dit mooie programma.
Een stemprogramma zoals het moet zijn. Goed en makkelijk.
De betrokkenheid en de service van jou zie je niet vaak. Dank daarvoor.
Ook de stemcursus in Frankrijk bij Ben Verbon was een geweldige ervaring.
Zeker voor herhaling vatbaar.
Bedankt en groet,
Gerard Burger.
Namn:
GRAZIANO FORNI
Plats:
garlasco (pv)
Språk:
Italiano
Kommentar:
ho utilizzato il programma su un yamaha c3xa
e funziona perfettamente
unico piccolo neo vi sono un paio di note che "lui" non riesce a discernere nella parte acuta, probabilmente dovuto all'algortimo di riconoscimento della frequenza.. ma dopo vari tentativi ci si riesce
Namn:
Bård Thomas Hesvik
Plats:
Haugesund
Språk:
English
Kommentar:
I'm in the process of getting familiar with this tool, and it strikes me how simple and extremely intuitive it is. In my mind anyone could tune a piano with this tool and a maximum of two thumbs!

I will report back when I'm done tuning the whole piano!
| | |
| --- | --- |
| | |
| Namn: | Peter K |
| Plats: | New York |
| Språk: | English |
| Kommentar: | I have been using Dirk's Piano Tuner since late 2014. I have tuned my Steinway B six or maybe seven times with it. I was amazed the first time I used it and, frankly, remain so now. My tuning technique has improved dramatically and I can now tune the whole piano in two hours, plus 15-20 minutes setup time (setting temperament strips, etc.) I strongly recommend an external mic All in all I can strongly recommend this product. |
| | |
| --- | --- |
| | |
| Namn: | Steven Mull |
| Plats: | Geneva, NY |
| Språk: | English |
| Kommentar: | Dirk's piano tuning software is by far the best designed, best executed, and easiest to use piece of programming I have ever encountered. Keep up the good work Dirk! |
| | |
| --- | --- |
| | |
| Namn: | Gary Bishop |
| Plats: | USA |
| Språk: | English |
| Kommentar: | I use this to tune pianos for myself and a few relatives. It does a real nice job. I use to do it by ear, which was too frustrating for me. I am much happier using this program. |
Namn:
Tjaarda MEES
Plats:
Lemps, France
Språk:
Français
Kommentar:
J'utilise Dirk's logiciel depuis qqs années et j'accorde pas seulement mon propre grand-piano mais aussi des pianos de ma famille et de mes amis. Avant, j'ai réussie à les accorder assez bien (sans aide) mais le résultat est absolutement mieux avec Dirk's logiciel. Le logiciel est facile à utiliser et le SAV de Dirk est splendide.
J'ai également un piano carré et je l'accorde à un autre hauteur, pas de problème avec ce logiciel.

| | |
| --- | --- |
| | |
| Namn: | Tjaarda MEES |
| Plats: | Lemps, France |
| Språk: | Nederlands |
| Kommentar: | Ik heb Dirk's pianostem-programma nu al een paar jaar en stem er niet alleen mijn eigen vleugel mee, maar ook de piano's en vleugels van vrienden en familie. Ik kon al vrij goed piano's stemmen op het gehoor, maar met het programma van Dirk is het resultaat beslist beter. Het programma werkt prima en de begeleiding en service door Dirk is geweldig. Ik heb ook een antieke square-piano en die stem ik op een andere toonhoogte, en dat is met dit programma geen enkel probleem. |
Namn:
Wim Thijs
Plats:
Middelburg, The Netherlands
Språk:
English
Kommentar:
Dear Reader,

I tune my own pianos since 1974 with the help of several tuning divices.
Summer 2015 I was looking for a better tuning device because the built-in stretching of my old device was not satisfying any more.
I bought Dirk's tuning device.
Result: my instruments sound SUPER; better than ever before !!!
Highly recommended !

Cheers to Dirk and Ben for the development of this incredible tool !

Many thanks,

Dr. ir. Wim Thijs
Namn:
Wim Thijs
Plats:
Middelburg
Språk:
Nederlands
Kommentar:
Beste lerer(es),

Ik stem al decennia mijn piano's met behulp van diverse stemapparaten. In de zomer van 2015 ging ik op zoek naar een beter stemapparaat omdat de stemming toch niet echt helemaal mooi was met de voorgebakken stretch. Het werd Dirk's stemapparaat.
Resultaat: mijn piano's hebben nog nooit zo mooi geklonken.
Hulde aan Dirk en Ben voor het ontwikkelen en ter beschikking stellen van dit ongelofelijk mooie hulpmiddel !
Dank!

Dr. ir. Wim Thijs
Namn:
Caspar Schijns
Plats:
Nederland
Språk:
Nederlands
Kommentar:
In 2012-02-21 Dirk's Piano Stemapparaat gekocht.
Door computerproblemen en herstel van windows is mijn meest dierbare programma het Piano Stemapparaat van Dirk verloren gegaan.
Na E-mail aan Dirk direct nieuwe installatie software ontvangen
en programma opnieuw kunnen installeren, dit is pas echte After Sales.
Dirk's Piano Stemapparaat is een programma waar je gelukkig van wordt en de piano volledig onder controle kunt houden.
Bedankt Dirk.
Namn:
Alberto Eliezer
Plats:
Brazil
Språk:
English
Kommentar:
The best tool to tune a piano ever.
The perfect stretch curve for the specific piano makes all the difference!!!

Namn:
Gjermund
Plats:
Norway
Webbsida:
PopJazzOnline.com
Språk:
English
Kommentar:
I'm using the pianotuner program! Very happy!
It works better than many of the piano tuners I've used so far.

I get really good tuning! Also, very good customer support!
Keep up the good work, Dirk

Regards,

-=Gjermund Sivertsen=-
https: / /PopJazzOnline. com - The number 1 place for learning piano online
Namn:
CG Johansson
Plats:
Kalix, Sweden
Språk:
English
Kommentar:
I found this program on the Internet in early 2012 and tested a bit on my piano. It seemed easy to make a tuning so I decided to buy to be able to test the program completely.
After some problems in the beginning, which Dirk quickly helped to fix, I now use the program at any tuning.
My laptop recently crashed so I had to get help with the installation of the software on the new laptop. Dirk was, as always, quick with support.
The program is highly recommended and Dirk's support is outstanding.
Namn:
Hans
Plats:
Venray
Språk:
Nederlands
Kommentar:
Gebruik het programma sinds december 2014. Resultaat is echt perfect. En het is nog leuk ook om zelf je eigen vleugel te stemmen. Ook even tussendoor een paar tonen bijstemmen is mogelijk als je het zelf kunt dus veel minder ergernis en wachten op de volgende stembeurt van de Pianostemmer. Helemaal TOP!

Vandaag de update voor El Capitan van Apple gekregen na één e-mailtje aan Dirk. Binnen een paar minuten antwoord en de update. Uitstekende service.

Een aanrader.
| | |
| --- | --- |
| | |
| Namn: | Frank Tichelaar |
| Plats: | Zandvoort |
| Språk: | Nederlands |
| Kommentar: | Vorige week de pianotuner besteld en voor het eerst gebruikt. Erg tevreden met het resultaat. Na een software update van Apple werkte het programma niet meer. Dat is inmiddels snel en correct opgelost dus het programma werkt nu ook onder El Capitan. |
Namn:
Jamie fox
Plats:
Dublin
Webbsida:
Foxpianotuning.com
Språk:
English
Kommentar:
I bought Dirk's piano tuner last year. I have been tuning pianos for twelve years and was never sold on a etd. Dirk's was recommended by a tuner friend who had had good results. I was shocked with the results. It really is as close to a good tuners ear as you can imagine. Very easy to use aswell. Makes pitch raising a treat. I had a problem with my laptop when I downloaded it. Dirk helped me through the process of installing the software. Great service.

Jamie fox
Dublin piano tuner
Foxpianotuning. com
Namn:
Bjorn Thienpont
Plats:
Roeselare (Belgium)
Språk:
Nederlands
Kommentar:
Beste Dirk,
Ik gebruik jouw tuner nu al een jaar of 4 en het is super!! Het wordt steeds verbeterd en het is super gebruiksvriendelijk. Als ik bij een klant vertrek zijn ze super tevreden over het resultaat. Ik twijfel er niet aan dat jouw ander stem-software van dezelfde kwaliteit zijn. chapeau!! Doe zo verder
Ps. Ook een pluim voor Ben Verbon!;) vele grtjs aan hem!

Grtz,
Bjorn