Dirk's pianostemmer

Å stemme et piano på den vanlige måten er en veldig komplisert prosess. Du må ha ferdighetene til å behandle stemmenøkkelen riktig, og la stemmepinnen stå i en stabil posisjon. Det er enda vanskeligere å bestemme riktig tonehøyde for strengene. Mange instrumenter kan stemmes ved hjelp av en enkel stemmer, hver tone stemmes da til en forhåndsbestemt frekvens. Denne metoden kan ikke brukes på piano. Resulatatet ville vært et piano som hørtes røfft og ustemt ut. Grunnen til dette ligger i måten strengeinstrumenter lager lyd. Dirk's Pianostemmer analyserer instrumentet ditt og bruker resultatet til å kalkulere den optimale stemmingen for akkurat ditt piano. Ved å bruke disse kalkulerte innstillingene kan du da stemme pianoet ditt, på nesten ingen tid til et profesjonelt nivå, uten å måtte gå gjennom den klassiske, tidsslukende prosessen der du 'sjekker intervallene'


http://dirkspianotuningandrepair.blogspot.nl


Hvordan stemme et piano Klikk på den følgende linken for en kort instruksjon: How to tune a piano Kursuke 'pianostemming for nybegynnere'

Kurset holdes i Dordogne i Frankrike. Under kurset vil du lære de teoretiske og praktiske stegene ved pianostemming. (Ved hjelp av Dirk's Pianostemmer). For mer informasjon, trykk på følgende lenke:

Kursuke 'pianostemming for nybegynnere' Stretch

En streng kan vibrere på forskjellige måter. Den kan vibrere et sted, der midten av strengen vibrerer, og endene står i ro. Den kan også vibrere to steder, der endene og midten er i ro, og strengen vibrerer ved 1/4 og 3/4 av lengden til strengen. På denne måten kan også strenen vibrere på tre, fire, fem, osv. steder. Alle disse vibrasjonene skjer på likt i strengen. Hver vibrasjon har sin egen frekvens, og en spilt streng sender derfor ut flere frekvenser på samme tid. Disse kalles strengens harmonier. Når disse harmoniene er akkurat 2, 3, 4 og 5 ganger utgangsfrekvensen kan en enkel stemmer brukes. Ved et piano er dette desverre ikke tilfellet. I teorien vil faktorer på eksakt 2, 3, 4, og 5 ganger utgangsfrekvensen høre harmonisk ut, eller stemt ut, men det har vist seg at de mørkeste tonene må stemmes litt mørkere, og de lyse litt lysere for å få pianoet til å høres rent ut. Hvor mye de mørke strengene må stemmes mørkere, og de lyse lysere, kaller vi pianoets strekk. Dette betyr at et hvert piano må stemmes forskjellig for å få frem den perfekte lyden.

Bestemme det riktige strekket

Det finnes stemmere som tar med strekket i beregningen. Du kan der velge et forhåndsbestemt strekk i begynnelsen, lite strekk for et stort piano, og stort strekk for et lite piano.Denne stemmingen kan få pianoet til et nesten optimalt nivå, men de personlige trekkene med det gjeldene pianoet er ikke tatt med, og noen faktorer som bestemmer strekket blir derfor ikke tatt med. På grunn av dette vil ikke pianoet høres optimalt ut, og du må bestemme strekket selv.

Pianostemmere gjør dette ved å spille mange intervaller (to noter på likt) og sammenligne dem. For å gjøre dette trengs mye øving. Problemene ligger i at du ikke kan stemme intervallene helt rent, og renheten varierer fra intervall til intervall. Når en intervall ikke er riktig, må en av notene endres. Denne noten er også med i andre intervaller, og dermed må også disse endres. Dette fører til at vi får et stort, vanskelig puslespill som må løses.

Dirk's Pianostemmer løser dette puslespillet for deg. I Dirk's Pianostemmer tas alle strengene opp ved å spille inn en og en (en streng per tangent). Stemmingen (og strekket) bestemmes av datamaskinen ved hjelp av dissse opptakene. Etter opptaket av en og en streng, har datamaskinen data nokk til å kalkulere den optimale begynnelsesstemmingen til pianoet. Deretter kalkuleres renheten til alle intervallene, og disse sammenlignes. Deretter kan pianoet stemmes, en streng om gangen, og datamaskinen vil vise avviket mellom den nåværende tonen, og den optimale. De dempede strengene stemmes senere likt og i samme unison som den allerede stemte strengen. Etter at alle strenger er stemt vil det høres så rent ut som mulig.

En oversikt over stemmerens funksjoner

| | |
| --- | --- |
| • | Passer alle slags piano og flygle. |
| • | Fikser en profesjonell stemming raskt og enkelt, skreddersydd for ditt piano |
| • | Kalkulerer det optimale strekket. Hver streng får den riktige tonehøyden. |
| • | Det kalkulerte strekket kan lagres og hentes opp igjen senere. |
| • | Veldig enkelt og bruke. Ingen kunnskaper anngående pianostemming trengs. |
| • | Du trenger ikke lengre sjekke intervallene og lignende. |
| • | Nålen reagerer raskt, for å kunne stemme til rett tonehøyde raskt og enkelt. |
| • | Automatisk strenggjenkjenning forhindrer stemming av feil streng |
| • | Ikke bare fanges tonen opp, men også oktaven. |
| • | Nålen følger tonen, selv om den går over til en annen tone |
| • | Stem nye strenger til rett spenn, raskt og enkelt. |





Microsoft

Apple

Desktop, Laptop, Netbook, Intel Tablet

iMac, Mac Pro, Mac mini, MacBook

$398
US Dollar




$398
US Dollar




Last ned prøveversjonen





Last ned prøveversjonen







Brukerhåndbok

Windows 10
Windows 8.1
Windows 8
Windows 7
Windows Vista
Windows XP
Windows ME
Windows 2000
Windows 98

Windows Phone
Windows RT

MacOS 10.12




OS X 10.11




OS X 10.10




OS X 10.9




OS X 10.8




OS X 10.7




Mac OS X 10.6




Mac OS X 10.5




Mac OS X 10.4




Mac OS X 10.3



iOS iPhone
iOS iPad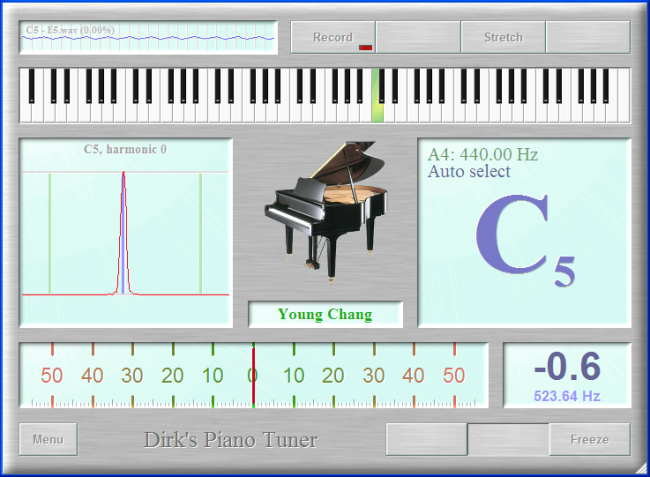 piano tuning, piano tuner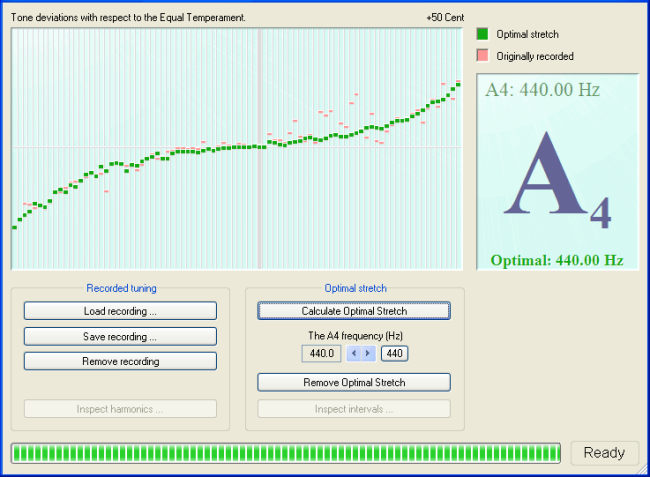 piano strekk



Navn:
Boiten Yvo
Sted:
Hasselt België
Dato:
2017-02-14
Språk:
Nederlands
Kommentar:
Dank aan Dirk voor vlugge tussenkomst, Dirk's Piano Tuner v4.0 deed het niet meer na vervanging van de harde schijf door SSD schijf.
Dirk's Piano Tuner v4.0 super geweldige toepassing, Pianoklank altijd top, service achteraf steeds perfect en even vriendelijk.
Tevreden klant sinds 2013
| | |
| --- | --- |
| | |
| Navn: | Luciano |
| Sted: | Benos Aires, Argentina |
| Dato: | 2017-02-5 |
| Språk: | Español |
| Kommentar: | Casi tres años después de adquirir este excelente afinador. La buena predisposición y rapidez en las respuestas ante cualquier eventualidad ajenas al afinador lo hacen un producto altamente recomendable. |
Navn:
Gerard Scholzen
Sted:
Bois-Colombes
Språk:
Français
Kommentar:
Enthousiasmant, cet outil est vraiment bien conçu et pratique à utiliser. Si l'on sait caler convenablement les chevilles, le résultat est excellent et l'accord est étonnamment stable. J'accorde régulierement depuis 3 ans avec ce logiciel un 1 / 4 de queue A. Forster de 1939 et un Yamaha droit 131 cm. Les résultats sont parfaits. J'ai un peu plus de mal avec un petit piano d'étude (qui tient mal l'accord) mais c'est indépendant du produit.
Bravo à Dirk et merci à lui pour la qualité de son service; (j'ai du telecharger 2 fois le logiciel suite à des casses d'ordinateur)
Navn:
J Prien
Sted:
Bielefeld, Germany
Språk:
Deutsch
Kommentar:
Super Tuner, super Kontakt und Support!
Nachdem die Installation auf dem neuen Pc nicht funktionierte, bekam ich einen neuen download-Link innerhalb weniger Stunden.
Einfach perfekt! Mit dem Tuner bin ich natürlich auch zufrieden; -)
Jerry
Navn:
Robert Hanisch
Sted:
Maryland, USA
Språk:
English
Kommentar:
What great user support! Emailed about Piano Tuner not working after MacOS upgrade to 10.12. Had a response in 30 minutes (1 am NL time), new download with the problem fixed.

And, of course, the software works great. I have a professional tuner come in once or twice a year, because he has a super ear and makes my Boston grand just sing. But in between times I can touch up and keep things sounding pretty good. Thanks, Dirk, for a great product!
Navn:
Marcel Baggen
Språk:
Nederlands
Kommentar:
Ik heb de piano tuner in 2010 aangeschaft om mijn eigen piano bij te kunnen stellen.
Vanwege het geringe gebruik vind ik de goede gebruiksvriendelijkheid van het programma een belangrijke eigenschap.

Nu mijn oude computer defect is geraakt heb ik na een kort mailtje binnen een dag een nieuwe versie (zonder bijbetaling) gekregen voor de vervangende PC.
Top service van Dirk!
Navn:
Joachim P
Språk:
Deutsch
Kommentar:
Den Piano Tuner benutze ich nun schon seit einigen Jahren.
Ursprünglich habe ich ihn mir geholt, weil die Klavierstimmer mein Klavier nie so stimmen konnten, wie ich es wollte.
Wie auch - ein Klavierstimmer hat nicht die Zeit um ein Klavier perfekt zu stimmen, oder es wird sehr teuer.
Mit Hilfe des Piano Tuners kann man es selbst besser machen als die vielen durchschnittlichen Klavierstimmer. Sicher gibt es auch sehr gute, aber ich hatte leider keinen gefunden, der mir zugesagt hat.
Eine Empfehlung für die, die sich die Software auch kaufen möchten. Wer noch nie ein Klavier gestimmt hat, sollte das handwerkliche Grundwissen im Stimmkurs erwerben. Nur die Software hilft Anfängern nur begrenzt. Oder man muss sehr viel probieren;)
Meinen besonderen Dank an Dirk, der auch nach Jahren immer kurzfristig mit Rat und Tat weiterhilft.

Navn:
Tony Fairfield
Sted:
New Zealand
Språk:
English
Kommentar:
I bought Dirk's piano tuner because of what I believe are diminishing standards of conventional tuning near where I live. I am not a trained tuner but am a perfectionist in piano matters. I can thoroughly recommend Dirk's tuner to anyone wanting to tune their own piano to a very high professional standard. The personalised stretch for my Model A Steinway grand sounds excellent, the tuner gives clear and accurate readings to within fractions of a cent and is easy to use. I had numerous Email discussions with Dirk before the purchase and found him always very prompt, professional, and informed, in his responses.

Thank you Dirk for a great product.
Navn:
Milko Lazar
Sted:
Slovenia
Språk:
English
Kommentar:
I've got Dirk's Piano Tuner few months ago. I am tuning my 218cm piano regularly with it now and I must say my piano was newer tuned better. Much better than tunings of my professional tuner.
Dirk's stretched tuning simply sounds amazing. You will have to adapt your ears to slightly wide thirds, but the fifths are more close to pure. The tuner itself is very simple to use and very precise.
For nearly thirty years I was frustrated with most of the time out of tune piano, which is I think, the serious problem of all the sensitive piano players. Now it takes me four hours every month or so, and I am more happy than ever.
One month ago, I've tuned my friend's almost new Steinway D, and he was totally impressed.
I recommend the Dirk's Tuner to every pianist, who has some ability to handle the tuning hammer or has will to learn how to use it (I recommend a good quality carbon hammer). It will make your life much much better.
Go on Dirk! Thank you!
Navn:
Mikhail
Sted:
Moscow
Språk:
Русский
Kommentar:
Здравствуйте! Когда же появятся курсы на русском языке? Очень ждём!
С уважением,
Михаил
Navn:
Gerard
Sted:
Volendam
Språk:
Nederlands
Kommentar:
Dirk, dank je wel voor het schrijven van dit mooie programma.
Een stemprogramma zoals het moet zijn. Goed en makkelijk.
De betrokkenheid en de service van jou zie je niet vaak. Dank daarvoor.
Ook de stemcursus in Frankrijk bij Ben Verbon was een geweldige ervaring.
Zeker voor herhaling vatbaar.
Bedankt en groet,
Gerard Burger.
Navn:
GRAZIANO FORNI
Sted:
garlasco (pv)
Språk:
Italiano
Kommentar:
ho utilizzato il programma su un yamaha c3xa
e funziona perfettamente
unico piccolo neo vi sono un paio di note che "lui" non riesce a discernere nella parte acuta, probabilmente dovuto all'algortimo di riconoscimento della frequenza.. ma dopo vari tentativi ci si riesce
Navn:
Bård Thomas Hesvik
Sted:
Haugesund
Språk:
English
Kommentar:
I'm in the process of getting familiar with this tool, and it strikes me how simple and extremely intuitive it is. In my mind anyone could tune a piano with this tool and a maximum of two thumbs!

I will report back when I'm done tuning the whole piano!
| | |
| --- | --- |
| | |
| Navn: | Peter K |
| Sted: | New York |
| Språk: | English |
| Kommentar: | I have been using Dirk's Piano Tuner since late 2014. I have tuned my Steinway B six or maybe seven times with it. I was amazed the first time I used it and, frankly, remain so now. My tuning technique has improved dramatically and I can now tune the whole piano in two hours, plus 15-20 minutes setup time (setting temperament strips, etc.) I strongly recommend an external mic All in all I can strongly recommend this product. |
| | |
| --- | --- |
| | |
| Navn: | Steven Mull |
| Sted: | Geneva, NY |
| Språk: | English |
| Kommentar: | Dirk's piano tuning software is by far the best designed, best executed, and easiest to use piece of programming I have ever encountered. Keep up the good work Dirk! |
| | |
| --- | --- |
| | |
| Navn: | Gary Bishop |
| Sted: | USA |
| Språk: | English |
| Kommentar: | I use this to tune pianos for myself and a few relatives. It does a real nice job. I use to do it by ear, which was too frustrating for me. I am much happier using this program. |
Navn:
Tjaarda MEES
Sted:
Lemps, France
Språk:
Français
Kommentar:
J'utilise Dirk's logiciel depuis qqs années et j'accorde pas seulement mon propre grand-piano mais aussi des pianos de ma famille et de mes amis. Avant, j'ai réussie à les accorder assez bien (sans aide) mais le résultat est absolutement mieux avec Dirk's logiciel. Le logiciel est facile à utiliser et le SAV de Dirk est splendide.
J'ai également un piano carré et je l'accorde à un autre hauteur, pas de problème avec ce logiciel.

| | |
| --- | --- |
| | |
| Navn: | Tjaarda MEES |
| Sted: | Lemps, France |
| Språk: | Nederlands |
| Kommentar: | Ik heb Dirk's pianostem-programma nu al een paar jaar en stem er niet alleen mijn eigen vleugel mee, maar ook de piano's en vleugels van vrienden en familie. Ik kon al vrij goed piano's stemmen op het gehoor, maar met het programma van Dirk is het resultaat beslist beter. Het programma werkt prima en de begeleiding en service door Dirk is geweldig. Ik heb ook een antieke square-piano en die stem ik op een andere toonhoogte, en dat is met dit programma geen enkel probleem. |
Navn:
Wim Thijs
Sted:
Middelburg, The Netherlands
Språk:
English
Kommentar:
Dear Reader,

I tune my own pianos since 1974 with the help of several tuning divices.
Summer 2015 I was looking for a better tuning device because the built-in stretching of my old device was not satisfying any more.
I bought Dirk's tuning device.
Result: my instruments sound SUPER; better than ever before !!!
Highly recommended !

Cheers to Dirk and Ben for the development of this incredible tool !

Many thanks,

Dr. ir. Wim Thijs
Navn:
Wim Thijs
Sted:
Middelburg
Språk:
Nederlands
Kommentar:
Beste lerer(es),

Ik stem al decennia mijn piano's met behulp van diverse stemapparaten. In de zomer van 2015 ging ik op zoek naar een beter stemapparaat omdat de stemming toch niet echt helemaal mooi was met de voorgebakken stretch. Het werd Dirk's stemapparaat.
Resultaat: mijn piano's hebben nog nooit zo mooi geklonken.
Hulde aan Dirk en Ben voor het ontwikkelen en ter beschikking stellen van dit ongelofelijk mooie hulpmiddel !
Dank!

Dr. ir. Wim Thijs
Navn:
Caspar Schijns
Sted:
Nederland
Språk:
Nederlands
Kommentar:
In 2012-02-21 Dirk's Piano Stemapparaat gekocht.
Door computerproblemen en herstel van windows is mijn meest dierbare programma het Piano Stemapparaat van Dirk verloren gegaan.
Na E-mail aan Dirk direct nieuwe installatie software ontvangen
en programma opnieuw kunnen installeren, dit is pas echte After Sales.
Dirk's Piano Stemapparaat is een programma waar je gelukkig van wordt en de piano volledig onder controle kunt houden.
Bedankt Dirk.
Navn:
Alberto Eliezer
Sted:
Brazil
Språk:
English
Kommentar:
The best tool to tune a piano ever.
The perfect stretch curve for the specific piano makes all the difference!!!

Navn:
Gjermund
Sted:
Norway
Nettsted:
PopJazzOnline.com
Språk:
English
Kommentar:
I'm using the pianotuner program! Very happy!
It works better than many of the piano tuners I've used so far.

I get really good tuning! Also, very good customer support!
Keep up the good work, Dirk

Regards,

-=Gjermund Sivertsen=-
https: / /PopJazzOnline. com - The number 1 place for learning piano online
Navn:
CG Johansson
Sted:
Kalix, Sweden
Språk:
English
Kommentar:
I found this program on the Internet in early 2012 and tested a bit on my piano. It seemed easy to make a tuning so I decided to buy to be able to test the program completely.
After some problems in the beginning, which Dirk quickly helped to fix, I now use the program at any tuning.
My laptop recently crashed so I had to get help with the installation of the software on the new laptop. Dirk was, as always, quick with support.
The program is highly recommended and Dirk's support is outstanding.
Navn:
Hans
Sted:
Venray
Språk:
Nederlands
Kommentar:
Gebruik het programma sinds december 2014. Resultaat is echt perfect. En het is nog leuk ook om zelf je eigen vleugel te stemmen. Ook even tussendoor een paar tonen bijstemmen is mogelijk als je het zelf kunt dus veel minder ergernis en wachten op de volgende stembeurt van de Pianostemmer. Helemaal TOP!

Vandaag de update voor El Capitan van Apple gekregen na één e-mailtje aan Dirk. Binnen een paar minuten antwoord en de update. Uitstekende service.

Een aanrader.
| | |
| --- | --- |
| | |
| Navn: | Frank Tichelaar |
| Sted: | Zandvoort |
| Språk: | Nederlands |
| Kommentar: | Vorige week de pianotuner besteld en voor het eerst gebruikt. Erg tevreden met het resultaat. Na een software update van Apple werkte het programma niet meer. Dat is inmiddels snel en correct opgelost dus het programma werkt nu ook onder El Capitan. |
Navn:
Jamie fox
Sted:
Dublin
Nettsted:
Foxpianotuning.com
Språk:
English
Kommentar:
I bought Dirk's piano tuner last year. I have been tuning pianos for twelve years and was never sold on a etd. Dirk's was recommended by a tuner friend who had had good results. I was shocked with the results. It really is as close to a good tuners ear as you can imagine. Very easy to use aswell. Makes pitch raising a treat. I had a problem with my laptop when I downloaded it. Dirk helped me through the process of installing the software. Great service.

Jamie fox
Dublin piano tuner
Foxpianotuning. com
Navn:
Bjorn Thienpont
Sted:
Roeselare (Belgium)
Språk:
Nederlands
Kommentar:
Beste Dirk,
Ik gebruik jouw tuner nu al een jaar of 4 en het is super!! Het wordt steeds verbeterd en het is super gebruiksvriendelijk. Als ik bij een klant vertrek zijn ze super tevreden over het resultaat. Ik twijfel er niet aan dat jouw ander stem-software van dezelfde kwaliteit zijn. chapeau!! Doe zo verder
Ps. Ook een pluim voor Ben Verbon!;) vele grtjs aan hem!

Grtz,
Bjorn
Navn:
Dirk Ettelt
Sted:
Traunwalchen, D
Språk:
Deutsch
Kommentar:
Die Software ist super. Ich hätte nicht gedacht dass dies wirklich so gut funktioniert. Heute gekauft und sofort meinen Flügel (Yamaha C2X) damit gestimmt - klingt hervorragend. Gebraucht habe ich etwa 2,5 Stunden. In den höheren Tonlagen wird das Stimmen allerdings etwas schwieriger, weil die Töne schneller ausklingen. Ein guter Signalpegel des Mikros ist hierbei zu empfehlen.

Die Software ist definitiv seinen Preis wert. Trotzdem war ich etwas enttäuscht über die letzte Preiserhöhung.


Navn:
Orlando Fleury
Sted:
68400 Riedisheim France
Språk:
Deutsch
Kommentar:
Dirk's Project hat es mir ermöglicht mein Instrument (Grotrian Steinweg 1888) selber zu stimmen und dadurch auch besser zu kennen. Dieses geniale und einfache Klavierstimmprogramm ermöglicht es mir in die Dimension des Klavierstimmers einzutauchen und von Mal zu Mal werde ich in meinen Bewegungen und Handgriffen geschickter. Der Flügel ist danach perfekt gestimmt; ich habe das Gefühl einer vollendeten Verbindung zum Klang und zu dem alten Instrument. Ich stimme den Flügel wann immer notwendig und traue mich nun auch mechanische schwierigere Geschichten heran, wie an das Intonieren etc.

Das Design ist zwar etwas retro, das der 90er Jahre (beinahe wieder Kult....;) jedoch ist es absolut effizient.

Auf meinem Mac Book Air funktioniert alles bestens, sogar mit dem eingebautem Microfon!

Dirk ist immer erreichbar. Auch nach einem Jahr wurde mir nach einem Systemabsturz mit Softwareverlust sofort und unkompliziert mit einem neuen Download-link geholfen.
Dirk: thank you very much that you exist - you changed my life!
Orlando